Giving Opportunity
Stop Hunger Canada - Donation / Payroll Deduction
About this Giving Opportunity
In 2021, 15 % of Canadians reported living in a food-insecure household according Statistics Canada. Around the world, 800 million people do not have enough food to lead a healthy, active life. The Stop Hunger Foundation focuses on community investments which support charitable groups that reflect and share our mission: organizations that build sustainable food systems in Canada, fight hunger our communities or that support the empowerment of women in need.
Thanks to the contribution of our founding partner Sodexo, each very dollar donated to the Stop Hunger Foundation is invested in communities in Canada.
Support us today
Your support advances our mission by:
Meeting the increased need for school breakfast programs across the country through our national partnership with the Breakfast Club of Canada.
Enabling us to support local organizations and recognize Sodexo employees' involvement in their communities through the Hero of Everyday Life Award.
Enabling us to have a better local philanthropy by deploying on-site fundraising activities that will benefit organizations working in food security in their community.
Enabling us to support new generations in their pursuit of education through our Gina Gentleman Scholarship program.
Helping to fund sustainable food access solutions in Indigenous and other communities in need in collaboration with Sodexo's various partners
Through our Stop Hunger Foundation, Sodexo Canada donates time, skills and money to tackle hunger, teach life skills and encourage sustainable food practices to members of our communities.
Help us to make a difference !
_________________________________________
En 2021, 15 % des Canadiens ont déclaré vivre dans un ménage en situation d'insécurité alimentaire selon Statistique Canada. Dans le monde, 800 millions de personnes sont privées de la nourriture indispensable pour mener une vie saine et active. La fondation Stop Hunger met l'accent sur les investissements communautaires soutenant des organismes caritatifs qui reflètent et partagent sa mission : des organismes qui bâtissent des systèmes alimentaires durables au Canada, qui luttent contre la faim dans nos communautés ou qui soutiennent l'autonomisation des femmes dans le besoin.
Grâce à la contribution de notre partenaire fondateur Sodexo, chaque dollar versé à la fondation Stop Hunger est investi dans les communautés canadiennes.
Soutenez-nous dès aujourd'hui
Votre contribution fera avancer notre mission en :
Répondant aux besoins accrus des programmes de petits déjeuners dans les écoles du Canada grâce à notre partenariat national avec le Club des petits déjeuners;
Nous permettant de soutenir des organismes locaux et de reconnaître l'implication des employés de Sodexo dans leur communauté grâce au Prix du héros de tous les jours;
Nous permettant de soutenir les nouvelles générations dans la poursuite de leurs études grâce à notre programme de bourses Gina Gentleman;
Nous permettant d'avoir une meilleure philanthropie de proximité par le déploiement d'activités de collectes de fonds sur site qui bénéficieront aux organismes travaillant en sécurité alimentaire de leur communauté;
Aidant à financer des solutions d'accès à la nourriture durable dans les communautés autochtones et autres communautés dans le besoin en collaboration avec les différents partenaires de Sodexo;
Par l'entremise de la fondation Stop Hunger, Sodexo Canada consacre du temps, des compétences et de l'argent pour lutter contre la faim, enseigner des habiletés fondamentales et encourager des pratiques alimentaires durables auprès des membres de ses communautés.
Aidez-nous à faire une différence !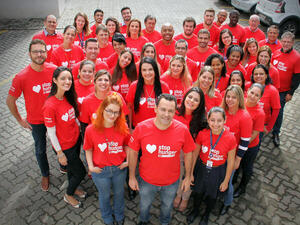 Causes in this Giving Opportunity

Burlington, Ontario, L7L6C7, Canada
How Donations Work
Click any 'Donate Now' button and then decide your donation amount. You will then be forwarded to your payment processor of choice. Once your donation has been processed, it will be sent to your charity of choice.
Need Some Help?